FREE EVENTS SUMMER 2022:
THE ROSE BRAMPTON PRESENTS
BRAMPTON'S OWN SHAKESPEARE SHOW - MUCH ADO ABOUT NOTHING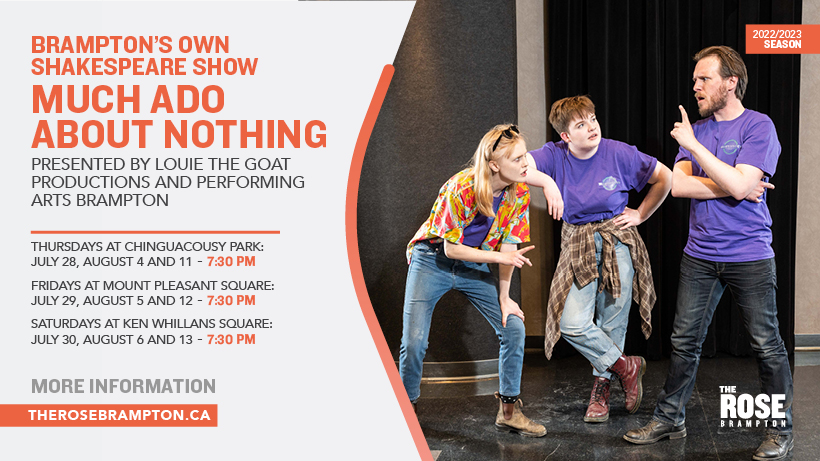 *PLEASE NOTE: THIS IS A "PAY WHAT YOU CAN" EVENT

Louie the Goat Productions with The Rose Theatre Brampton Presents: Brampton's Own Shakespeare Show - Much Ado About Nothing   This summer, join Performing Arts Brampton and Louie the Goat Productions for Brampton's Own Shakespeare Show - Much Ado About Nothing. Audiences of all ages will enjoy this fan favorite comedy where lots of terrible things... almost happen. As the city of Messina prepares for the wedding of Hero and Claudio, the Prince's men and Leonato's family attempt to play Cupid by making long-time rivals Beatrice and Benedick fall in love. All the while, the Prince's brother conspires to ruin it all. Performing in 3 outdoor Brampton venues, this production showcases Brampton's mosaic. Grab a chair or blanket and head over to laugh and cry at this classic, family-friendly comedy. 

Show Dates and Locations:
Thursdays at Chinguacousy Park: July 28, August 4 and 11, 7:30 PM
Fridays at Mount Pleasant Square: July 29, August 5 and 12, 7:30 PM
Saturdays at Ken Whillans Square: July 30, August 6 and 13, 7:30 PM

LEARN MORE
 
MONSOON SOUND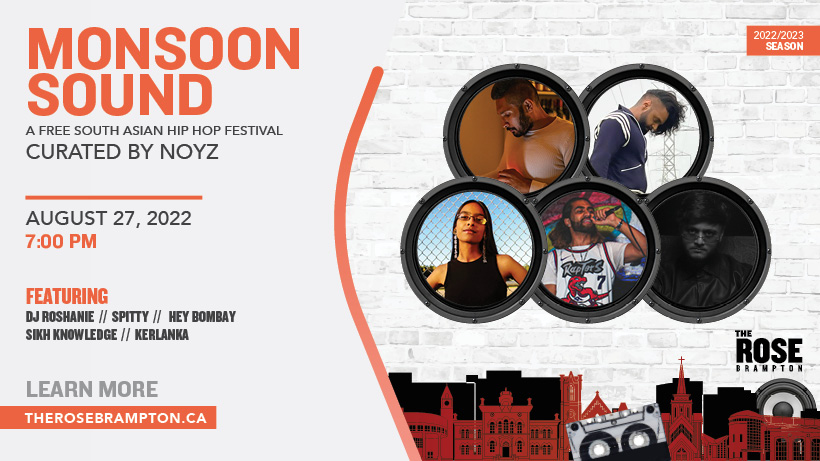 Celebrating South Asian hip hop artists. Performing Arts Brampton is proud to serve in a community where 44.3 % of its residents are of South Asian decent. Thriving in this beautiful mosaic, young South Asian communities are emerging with new voices and new forms of expression. We see the unique blends of different cultures with the rise of South Asian hip hop, where traditional sounds like Bhangra are often married with everything from classic boom-bap, smooth jazz-rap to trap beats.
FEATURING
Sikh Knowledge & Hey Bombay
DJ Roshanie
Siddartha
Keralanka
Tanvir Rose
Spitty
Referred to as a "cultural mainstay", the Indian Monsoon is vital to the Indian economy, and has been documented in art, music and literature for decades. An intense period of heavy rain, booming thunder, and plenty of lightening injects an amazing amount of vigor into people, and it's common to see children running about, dancing in the rain, and playing games. Even adults join in! It is with that same spirit we hope to invigorate the growing population of South Asian hip hop heads in Brampton. To come together, celebrate the youthfulness of South Asian hip hop and commemorate the end of another summer in Brampton.
August 27
7:00 PM
The Rose Brampton Lobby
STARLIGHT SATURDAY MOVIES

Join us in Garden Square Brampton on Saturday nights at 9pm on 4 select dates for Starlight Saturday Movies. Grab your lawn chair, blanket and spend your Saturday night at the movies in Garden Square.

July 2 - No Time to Die (PG)
July 16 - The Batman (PG-13)
August 20 - Dune (PG-13)
September 3 - F9 (PG-13)
STOMP N' STAMPEDE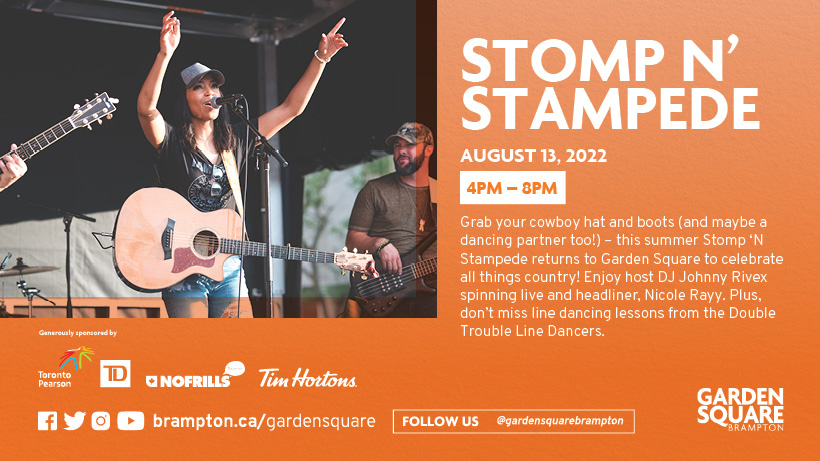 Grab your cowboy hat and boots (and maybe a dancing partner too!) - this summer Stomp N' Stampede returns to Garden Square to celebrate all things country! Enjoy host DJ Johnny Rivex spinning live and, headliner, Nicole Rayy. Plus, don't miss line dancing lessons from the Double Trouble line dancers.

August 13
4:00 PM - 8:00 PM

LEARN MORE
 
FLOWER CITY SLAM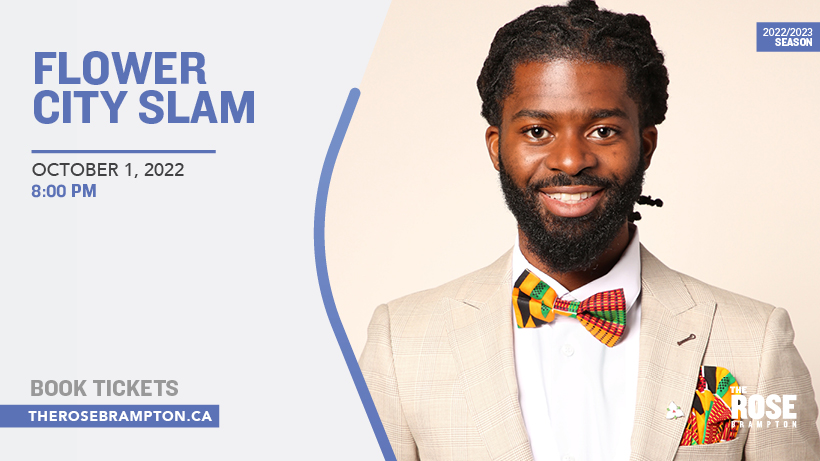 Featuring Ontario's First Poet Laureate, Randell Adjei Hosted by Lamoi. Calling all artists and poets! Flower City Slam is back with our yearly poetry competition. Poets will compete to win over $500 in prizes!

CLICK HERE FOR COMPETITOR REGISTRATION
October 21, 2022
8:00 PM
The Rose Studio II