2021-2022 SEASON
CENTRE STAGE CONSERVATORY
APPLICATIONS NOW CLOSED.
Testimonials
"Array of artists and experts for the students to learn from and the top notch communication to the teens and families throughout the process."
- 2020-2021 parent survey

"This program is so well organized and professionally run that we were just thrilled that our son was able to be a part of it. The artists and experts who shared at each session were exemplary and opened our son's eyes and mind to more about the arts."
- 2020-2021 parent survey
 
About the Program
The Centre Stage Conservatory is a training program for young Brampton artists to engage in professional development and mentorship to enhance and enrich their artistic sensibilities.
All participants will attend virtual monthly workshops on a variety of topics taught by leading artists/practitioners in their field. The workshop themes will challenge participants to view their art through new lenses:
Enhance understanding of artistic principles
Connect artistic choices to entrepreneurial skills
Develop a comprehensive approach to artistic creation and performance
Engage with fellow artists of all levels of experience and artistic disciplines
In addition to workshops, participants will develop and rehearse a final performance.
The Centre Stage Conservatory is ideal for passionate, young artists who pursue technical excellence in their artistic work, and are curious and willing to challenge how they define and engage with art as a whole.
By creating space, conversations and resources to develop young artists through the Centre Stage Conservatory, the City of Brampton aims to transform the artistic community in our city for years to come.
Areas of Study
Voice
Entrepreneurship 
Acting
Tech
Storytelling
Movement
Marketing & Business of the Arts
Notes
Participation in the Centre Stage Conservatory is free for all performers successful in the audition process.
Eligibility
Centre Stage Conservatory supports young artists across artistic disciplines and encourages submissions from musicians, actors, choreographers, composers, comedians, rappers, singers, directors, dancers, playwrights, circus performers, and more. Youth ages 12-18 from Brampton and beyond, practicing any performing arts discipline, are eligible to audition.

Students who have participated in Centre Stage before are able to audition for the Conservatory.
How to Submit
Applications are now open!

Submit the below application materials by email to rose.education@brampton.ca by November 29, 2021. 
2-6 minute performance video. Include an introduction of yourself, the title of the piece, and the author/creator

Audition Resources:
by Darryn De Souza
Founder, DeSouza School of Music
Music Director, The Tenors
20 years of experience
pianist | vocalist | compose | arranger | educator
Accessibility
We believe that all young performers should have opportunities for training and development. Here are some accessibility features of Centre Stage Conservatory:
This is a free program; there are no fees to participate.  
In-person performance and workshop spaces are wheelchair accessible.
ASL interpreters and support persons are welcome in our spaces.
We celebrate neurodiversity, and active listeners.  
Written and video resouces on audition preparation
Participants with disabilities who require additional support to prepare for the stage performance can also receive a one-on-one coaching session(s).    
We are committed to offering an accessible, safe, and comfortable experience for all. Please let us know if you have questions about accessibility or if you would like to request accommodations.  

GENEROUSLY SUPPORTED BY PRESENTING SPONSOR


ARCHIVE: 2020-2021
Instructors: Darryn DeSouza, Jael Richardson, Katie Leamen, Mike Rainey, Kiran Rai, Cameron Grant, and brian solomon.

View 2020-2021 Playbill
Watch 2020-2021 Final Performance (July 7, 2021)
 
RADIO PLAY SERIES
In spring 2020, The Rose Brampton offered FREE online, participatory arts programming for elementary and high school youth.
During their time together, the group learned vocal warm-ups and techniques, participated in drama games and activities, explored character development, analyzed themes and context, rehearsed their roles, established sound effects, made a recording of their performance, and presented their work as a radio play.
RADIO PLAY LIBRARY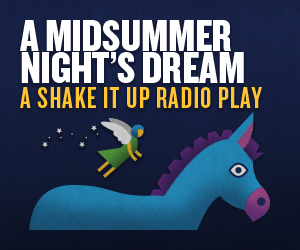 A Midsummer Night's Dream by William Shakespeare

           Featuring Madeleine Hastings-Speck (grade 5), Peter Stankaitis (grade 8),
           Zoey Stankaitis (grade 5), Cynthia Galant (grade 9), Siya Amin (grade 5) and
           anonymous (grade 8). Program Facilitator & Narration by Katrina Gibson.
           Recorded March 27, 2020.
   
           LISTEN NOW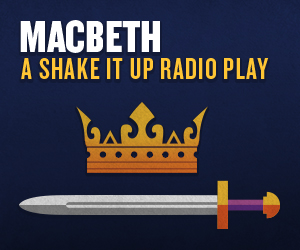 Macbeth by William Shakespeare
 
           Featuring Mehr Thakkar (grade 8); Nidhi Sanjeev Kumar (grade 9);
           Garrett Callahan (grade 12); Zoe Cull (grade 9); Hannah Neely (grade 11);
           Peter Stankaitis (grade 8); Narrator and Program Facilitator: Katrina Gibson
           Recorded April 3, 2020.

           LISTEN NOW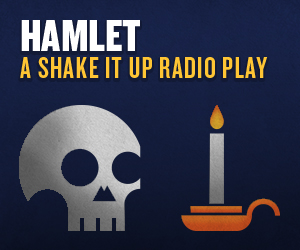 Hamlet by William Shakespeare
            Featuring Malaya Landon (grade 7); Emma Hogan (grade 11);
            Alison Gammage (grade 11); Jazmine Palermo (grade 11); Anonymous (grade 12);
            Peter Stankaitis (grade 8); Zoey Stankaitis (grade 5);
            Narrator and Program Facilitator: Katrina Gibson
            Recorded April 9, 2020.

            LISTEN NOW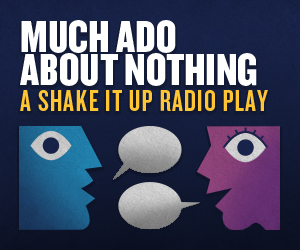 Much Ado About Nothing by William Shakespeare
            Featuring Aiesha Janelle (grade 5); Genevieve Stacey (grade 10);
            Alice Zheng (grade 12); Siya Amin (grade 5). Narrator and Program Facilitator: Katrina Gibson
            Recorded April 10, 2020.

            LISTEN NOW
YOUTH+ELDERS STORYTELLING PROJECT
During the Covid-19 pandemic, we are all facing social isolation, and many people are looking for ways to increase our connection to each other.

In April, we ran an inter-generational creative project where youth and elders were matched together in an artistic partnership where youth retold a story from their elder partner's life.

Over the course of 5 weekly meetings, under the facilitation of The Rose Brampton's Katrina Gibson, participants learned the elements of crafting a compelling story, created drafts that they edited and refined, and which will result in a storytelling piece for public presentation on The Rose Brampton website. At the end, we will have created a public library representing our shared stories and histories. LISTEN HERE.

SHAKE IT UP! STUDENT SHAKESPEARE FESTIVAL
Shake It Up! is an all-inclusive and accessible Shakespeare festival for elementary and secondary schools – where students are the actors!

Over the course of twelve weeks, The Rose's professional theatre artists travel to Brampton schools to rehearse and develop a 20-minute condensed Shakespeare play. A truly inclusive program, all students in the class will work as a collective to make the production a reality. All schools come together for a fantastic evening performance at Lester B. Pearson theatre, open to the public.

For many, this will be their first time performing on a professional stage – and perhaps the beginning of a career in the performing arts!

This program is free to schools, and will resume in 2021.