LIFELONG LEARNING
Exciting things are happening in arts education with Brampton On Stage for people of all ages. Whether you are interested in learning new skills in the performing arts, if you have always wanted to be on stage, or would like to learn skills backstage, stay tuned to this website and our social media! 

This page contains information about:
Arts Inside
Performing Arts Education Conference
The Audition Intensive Workshop Series
Take Our Kids to Work Day
Arts Inside
Introducing Arts Inside, a new monthly performing arts workshop series for adults led by professional artists. With a focus on creation, connection and community, this is your chance to bring out your inner artist! Whether you are interested in exploring acting, poetry, singing, creative writing, digital storytelling or dancing, each month will provide a new and exciting option! No previous experience is necessary — just an open-mind and the willingness to try something new in a safe space. Meet new people and learn from a new artist each month! What arts are inside you? This is your chance to find out! For all workshops doors open at 6:30 pm with a start time of 7:00 pm and take place in The Rose Studio (except for Sing Yourself Alive which will be held virtually). 
SEPTEMBER 20, 2023 - SOUND OFF, SOUND IN
ARTIST FACILITATOR: IAN KETEKU
LEARN MORE AND REGISTER
OCTOBER 18, 2023 - CHANGING THE WORLD THROUGH HIP HOP DANCE THEATRE
ARTIST FACILITATOR: JADE JAGER CLARK
LEARN MORE AND REGISTER
NOVEMBER 22, 2023 - THE EMOTION PLAYGROUND
ARTIST FACILITATOR: JIMISH THAKKAR
LEARN MORE AND REGISTER
DECEMBER 6, 2023 - BRAMPTON'S HOLIDAY SING-ALONG
ARTIST FACILITATOR: DARRYN DE SOUZA
LEARN MORE AND REGISTER
FEBRUARY 7, 2024 - SING YOURSELF ALIVE (VIRTUAL)
ARTIST FACILITATOR: BRENDA MCINTYRE
LEARN MORE AND REGISTER
MARCH 6, 2024 - WRITING POSSIBILITY: ZINE-MAKING AND STORYTELLING AS SURVIVAL
ARTIST FACILITATOR: MARKUS HARWOOD-JONES
LEARN MORE AND REGISTER
APRIL 3, 2024 - DIGITAL STORY IN COLOUR
ARTIST FACILITATORS: EMKAY ADJEI-MANU & SONIA MEERAI
LEARN MORE AND REGISTER
MAY 1, 2024 - EXPLORING MUSIC AND ARTISTRY THROUGH TECHNOLOGY: VOCAL LOOPING WORKSHOP
ARTIST FACILITATOR: JORDANA TALSKY
LEARN MORE AND REGISTER
JUNE 5, 2024 - SPEAK UP, SPEAK OUT
ARTIST FACILITATORS: JENNIFER ALICIA MURRIN
LEARN MORE AND REGISTER

Performing Arts Education Conference
Brampton On Stage's first annual Performing Arts Education Conference focuses on tools and strategies to bring texts alive in the classroom. Taking inspiration from the concurrently running production of
Hamlet
, participants have the option of including a ticket to that evening's opening night performance with their registration. The conference will be held at the iconic Rose theatre in downtown Brampton with two options for participation: in-person on October 12 and virtually on October 18. The conference is appropriate for teachers at all levels, including those focused on English and Drama, partnering arts organization staff, and artist-educators.
THURSDAY OCTOBER 12, 2023
WEDNESDAY OCTOBER 18, 2023
Unfortunately, we will not be proceeding with the Performing Arts Education Conference. We recognize the value of providing educational experiences and hope to engage the workshop leaders in the future as part of our Arts Inside workshop offerings.
If you would like to connect further about our current and future Lifelong Learning offerings, please reach out to rose.education@brampton.ca.
PERFORMING ARTS EDUCATION CONFERENCE INFO & RESOURCE PACKAGE

The Audition Intensive
Are you looking to develop your auditioning skills? Are you applying for theatre school, or for jobs in performing arts? Brampton On Stage is here to get you ready! We are offering a masterclass in auditioning, open for everyone. Whether you are aspiring or already working, auditioning for professional work, or auditioning for theatre schools – this program is for you. Led by industry professionals, this program will help develop confidence and skills in auditioning over 4 sessions. This workshop series will leave participants feeling confident and prepared to handle their upcoming auditions!  
Learn audition technique and monologue selection
Focus on monologue and character development
Receive 1:1 coaching on audition pieces
Participate in a mock audition for a panel of professional theatre practitioners, with opportunities for individual feedback on audition pieces and performance
LEARN MORE AND REGISTER
Accessibility
We believe that all performers should have opportunities for training and development. We are committed to offering an accessible, safe, and comfortable experience for all. Please let us know if you have questions about accessibility or if you would like to request accommodations. Here are some accessibility features of this workshop series: 
Pay-what-you-decide fee structure
In-person performance and workshop spaces are wheelchair accessible
ASL interpreters and support persons are welcome in all spaces
We celebrate neurodiversity and active listeners
We have provided resources to assist with meeting application requirements (see Resume & Headshot tip documents)
Who Can Apply
Those interested in acting for theatre
Those in beginner to advanced levels will find this workshop useful, as content is customized to help you work on your individual pieces
Section 1: Youth ages 12-17
Section 2: Adults ages 18+
KEY DATES 2023
Application due date: October 2, 2023
Notification date: October 6, 2023
Workshop 1: October 14, 2023
Workshop 2: October 21, 2023
1:1 Coaching Session: October 22-27, 2023
Workshop 3: October 28, 2023
HOW TO APPLY
Step 1:
Register and make payment
.
Step 2:
 Complete the Additional Information Form for your age group:
REGISTRATION FEE
In order to remove financial barriers and ensure this experience is open to all, we have implemented a pay-what-you-decide fee structure.
Section 1
 (Youth ages 12-17) $0 / $20 / $40
Section 2
(Adults ages 18+) $0 / $25 / $50
PROGRAM SCHEDULE
October 14, 2023 - Workshop 1
Adults 10:00 am-12:00 pm / Youth 1:00-3:00 pm 
How to prepare for an audition
Audition selection and general requirements, taking specific artist practices into consideration
October 21, 2023 - Workshop 12
Adults 10:00 am-12:00 pm / Youth 1:00-3:00 pm 
Monologue and character development and exploration 
How to work on your selected material alone and create your character 
October 22, 2023 - Coaching (Virtual)
Each participant will receive one 20-minute one-on-one coaching session with the lead facilitator to get specific feedback on their audition pieces 
October 28, 2023 - Mock Audition
Adults 10:00 am-12:30 pm / Youth 1:30-4:00 pm 
Mock audition for a panel of professional theatre artists, to simulate the experience of auditioning   
Valuable verbal and written feedback will be provided to each participant 
RESOURCES
PAST PARTICPANT QUOTES
"I liked how there were professional actors who already had experience in the acting or theatre industry because it gave me insights and more knowledge about this career and everything that takes place within this industry."
- Aarti Dhiman

"In addition to practical techniques, this workshop has given me the chance to get feedback from someone other than my mom and the mirror. It's given me motivation to prepare ahead of schedule and has pushed me to improve at every step."
- Juan Carlos-Figueroa

"They gave me good advice and tips on what to do for my real audition."
- Nathaniel Anderson-Jacobs

ABOUT THE FACILITATOR: LEIGHTON ALEXANDER WILLIAMS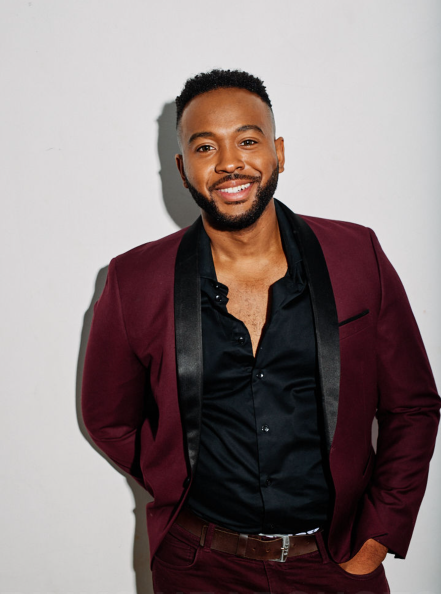 Leighton Alexander Williams is a multi-talented artist based in Brampton, Ontario, known for his achievements as an award-winning stage and screen actor, writer, and director. He is a graduate of York University's Acting Conservatory (BFA 2015). One of Leighton's most notable achievements in the theatre industry was his portrayal of "Satan" in his adaptation "Judas Noir" (Obsidian Theatre/BDB Production), which brought him considerable recognition. This performance led to his first Dora Mavor Moore Nomination, a Toronto Critics Pick Nomination for Outstanding Supporting Performance, and earned him the esteemed Ontario's Emerging Artist of the Year Award. Beyond his accomplishments in acting, Leighton is also a co-founder of BDB Productions Inc. As a writer, his debut film "Residue" gained significant attention as it delved into the aftermath of police brutality. The movie received media coverage on Breakfast Television and CHCH News during its successful festival run. Subsequently, CBC swiftly licensed "Residue", making it available on demand via CBC Gem. As a director, Leighton was a part of the groundbreaking series: "21 Black Futures", which won 4 Canadian Screen Awards, including "Best Digital Series". Leighton is a recent graduate of the prestigious Canadian Film Center's CBC Actors Conservatory. He has since completed 2 feature films scheduled for release later this year. Additionally, audiences can catch him in the CSA nominated series, "Avocado Toast" (Season 2), where he plays the character Dave. For a comprehensive list of Leighton Alexander Williams' credits, you can refer to his IMDb page at imdb.me/leightonwilliams.
 
Take Our Kids To Work Day
Wednesday, November 1, 2023
8:30 am - 2:10 pm
In-Person
The Rose Brampton (1 Theatre Lane) & BAO Offices (8 Nelson)
FREE
Presented in partnership with
Brampton Arts Organization
(BAO), we are calling all Grade 9 students who are interested in learning more about a career in the arts. Would you like to spend a day at The Rose Brampton and BAO offices? Come and join us for "Take Our Kids to Work Day"! Unlike the traditional Take Our Kids to Work Day, you are not required to have a parent or sponsor who works here. All grade 9 students are welcome to attend this FREE program.
REGISTER NOW
This day features:
Career panel
Tour of The Rose and Brampton Arts Organization
Catered hot lunch
Performing arts workshop with Sunny Chahal, Artistic Director of Laal Button
Visual arts workshop with Charmaine Lurch