SPECIAL EVENTS

BRAMPTON'S OWN SHAKESPEARE SHOW TWELFTH NIGHT - PRESENTED BY LOUIE THE GOAT PRODUCTIONS
Thursdays - Chinguacousy Park: July 20, 27, and August 3, 2023 at 7:30 PM
Fridays - Mount Pleasant Square: July 21, 28, and August 4, 2023 at 7:30 PM
Saturdays - Ken Whillans Square: July 22, 29, and August 5, 2023 at 7:30 PM
PAY-WHAT-YOU-CAN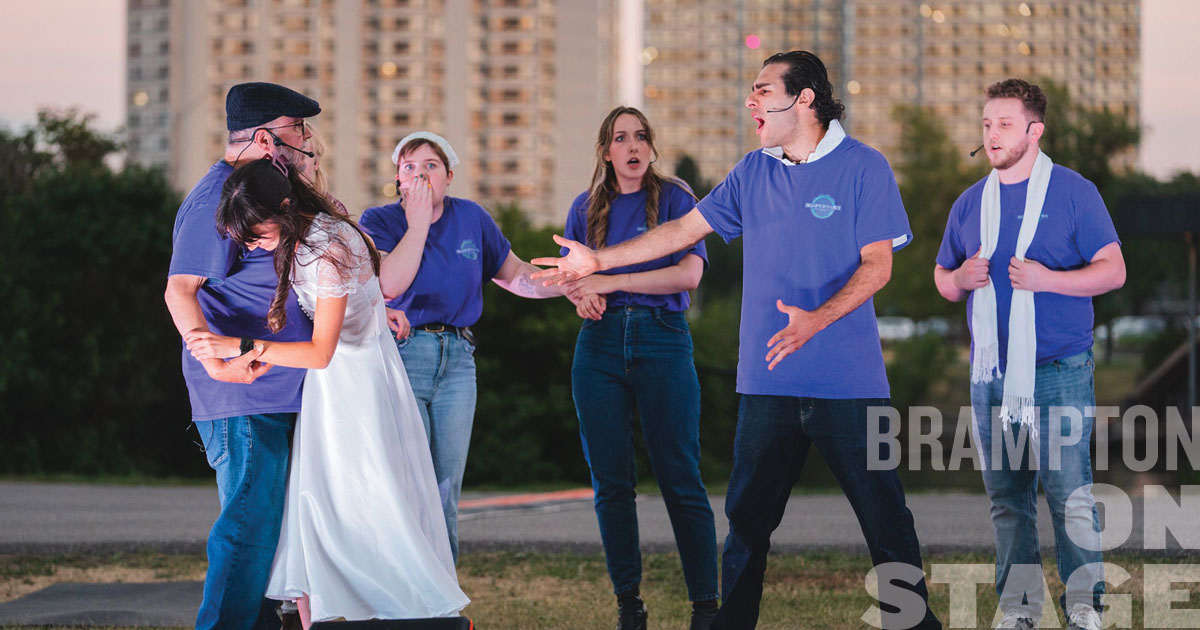 Brampton's Own Shakespeare Show returns for its second season touring TWELFTH NIGHT to three outdoor stages around Brampton this summer! Grab a chair, a blanket, pack a picnic, and pick the park nearest you to settle in and enjoy a comedy of mistaken identities and unrequited love triangles.  When twins, Viola and Sebastian, are separated by a shipwreck, Viola disguises herself as Cesario to serve Duke Orsino. Duke loves Olivia. Olivia loves Cesario. Viola loves Duke, but is pretending to be Cesario. Things get... complicated. With twists, turns, that special pizazz from Louie The Goat ProductionS, this is a PAY-WHAT-YOU-CAN summer theatre experience for the whole family!
Click here for more information!

BLUE JAY SUNDAYS
Cheer on the Toronto Blue Jays on the big screen in Garden Square every Sunday this summer! Pick up lunch from a local business and enjoy some afternoon baseball in downtown Brampton. 
Full Game Schedule 
Downtown Brampton Restaurant Listing
*Game broadcasts are subject to events scheduled*

FRIDAY NIGHT LIVE
Come together and celebrate the sweet sounds of summer nights in Garden Square with
FREE
outdoor concerts throughout July and August! Experience a new genre of music and vibe each week performed by emerging talent, as well as established headliners from across the GTA. Join us at
7:00 PM
and start every weekend with
FRIDAY NIGHT LIVE
!

JULY 7: KIRK DIAMOND AND THE MOVEMENT OF AHRYEL FEATURING JONELLE
Join us for a celebration of Reggae Music and Afro-Caribbean culture! Hear Juno award winning, singer, songwriter, and social activist Kirk-Diamond joined by his band The Movement of Ahryel, spreading messages of unity, inclusion and love. Also featuring Brampton-born artist Jônelle, who takes her inspiration from reggae, afrobeats, hip hop, R&B and jazz to name a few.

JULY 14: ROCK STAR LIVE - LIVE BAND KARAOKE WITH CANADA'S BEST INTERACTIVE LIVE MUSIC EXPERIENCE!
ROCK STAR LIVE is live band karaoke, with lyrics displayed karaoke-style on TVs for guest singers and for the audience to sing along! Corporate events, fundraisers, weddings, birthdays, team building events or cottage parties. ROCK STAR LIVE has an interactive, cover, or live band karaoke program for you and consists of real live rock stars! They have toured the world, sold over a million records, accumulated multiple Juno, Socan (#1 song), and Gold and Platinum Album Awards. Based in Toronto Ontario, they have created memories and moments for events from Victoria to Halifax.

JULY 28: THE ROSEBOWL CURATED BY TCSPADES
The Rose Bowl is a Hip Hop and R&B Festival for the City of Brampton by Brampton's very own. Featuring local grown talents Ashlye, Kwasi Obeng, MixTapper, and Osé. Co-Headlined by This Is Brampton Curator, TCSpades, and Ameerah - this is a night you don't want to miss.

AUGUST 4: EAST COAST KITCHEN PARTY FEATURING ECLECTIC REVIVAL AND SCREECHED INN
All Maritimers and Mainlanders – and those who are curious – are invited to come indulge in the culture of the east coast, as Garden Square hosts an East Coast Kitchen Party. Featuring performances by Eclectic Revival and Screeched Inn.  
AUGUST 11: MAZAA CURATED BY HASHEEL
Calling all Desis and Desi lovers! Mazaa celebrates some of GTA's most prolific Bollywood and Classical artists to the stage. Curated by Hasheel, and featuring tabla electronic duo kLoX, Mohua Parial, and more, come enjoy the sights, sounds, and tastes that will leave you saying 'Ab ayega Mazaa!'

AUGUST 18: STOMP N' STAMPEDE HOSTED BY DJ JOHNNY RIVEX, FEATURING HEADLINER ROB WATTS
This summer Stomp N' Stampede returns to Garden Square to celebrate all things country! Enjoy host DJ Johnny Rivex spinning live. Enjoy the sweet sounds of headliner Rob Watts, plus a performance by singer-songwriter duo Broadtree. Don't miss line dancing lessons from the Double Trouble line dancers beginning at 7:00 p.m.!  
AUGUST 25: WANNABE - A SPICE GIRLS TRIBUTE
With giant personalities, British accents and platform shoes, WANNABE delivers the ultimate 90's dance party, sharing a message of love, equality and, of course, GIRL POWER! With opener Divine Lightbody.

SEPTEMBER 1: MIMI O'BONSAWIN WITH HEADLINER ADRIAN SUTHERLAND PRESENTED IN PARTNERSHIP WITH THE GORD DOWNIE & CHANIE WENJACK FUND
Brampton On Stage is a proud member of The Gord Downie and Chanie Wenjack Legacy Spaces Program, and we invite you to take reconciliACTION with us this year. Come out and hear roots rock recording artist Adrian Sutherland, with opener Mimi O'Bonsawin. Support local Indigenous vendors at our outdoor market during the show.

MOVIES BY MOONLIGHT
REEL FUN FOR THE WHOLE FAMILY!
Every
Wednesday at 8:00pm from June 28 to August 30
, bring a blanket and chair to Garden Square to cuddle up and enjoy a FREE family friendly movie. Stay tuned to Garden Square's social media channels for pre-movie activities starting at 7:00pm!
June 28: 
Encanto
July 5: 
Puss N' Boots - The Last Wish
July 12: 
Black Panther - Wakanda Forever
July 19: 
Bad Guys
July 26: 
Lightyear
August 2: 
The Rise of Gru
August 9: 
The Super Mario Bros.
August 16: 
Turning Red
August 23: 
The Little Mermaid
August 30: 
Spider-Man: Across the Spiderverse

STARLIGHT SATURDAY MOVIES
Enjoy FREE star-studded movies under the stars on
Saturdays at 8:00pm
with box office hits! 
July 8: 
Grease
July 15: 
South-Asian special movie TBA
July 12: 
Black Panther - Wakanda Forever
July 29: 
Ferris Bueller's Day Off
August 5: 
Black Adam
August 12: 
Top Gun Maverick
August 19: 
Ant-Man and The Wasp - Quantumania
August 26: 
Elvis
September 2: 
Fast X